Arthritis is a term often used to mean any disorder that affects joints. Symptoms generally include joint pain and stiffness. Other symptoms may include redness, warmth, swelling, and decreased range of motion of the affected joints. In some types other organs are also affected Onset can be gradual or sudden.
Physical exercise of the affected joint can noticeably improve long-term pain relief. Furthermore, exercise of the arthritic joint is encouraged to maintain the health of the particular joint and the overall body of the person. In arthritis the joints become stiff and the range of movement can be limited. Physical therapy has been shown to significantly improve function, decrease pain, and delay need for surgical intervention in advanced cases.Exercise prescribed by a physical therapist has been shown to be more effective than medications in treating osteoarthritis of the knee. Exercise often focuses on improving muscle strength, endurance and flexibility. In some cases, exercises may be designed to train balance.
There are over 100 types of arthritis.The most common forms are osteoarthritis (degenerative joint disease) and rheumatoid arthritis.
Osteoarthritis (OA) is a type of joint disease that results from breakdown of joint cartilage and underlying bone. The most common symptoms are joint pain and stiffness. Initially, symptoms may occur only following exercise, but over time may become constant. Other symptoms may include joint swelling, decreased range of motion, and when the back is affected weakness or numbness of the arms and legs. The most commonly involved joints are those near the ends of the fingers, at the base of the thumb, neck, lower back, knee, and hips. Joints on one side of the body are often more affected than those on the other.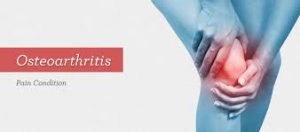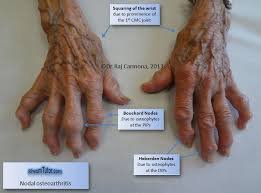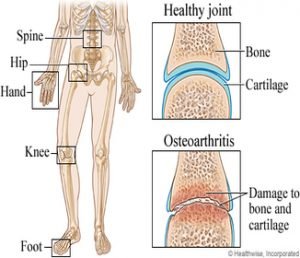 Rheumatoid arthritis (RA) is a long-lasting autoimmune disorder that primarily affects joints. It typically results in warm, swollen, and painful joints. Pain and stiffness often worsen following rest. Most commonly, the wrist and hands are involved, with the same joints typically involved on both sides of the body. The disease may also affect other parts of the body. This may result in a low red blood cell count, inflammation around the lungs, and inflammation around the heart. Fever and low energy may also be present.[1]Often, symptoms come on gradually over weeks to months. While the cause of rheumatoid arthritis is not clear, it is believed to involve a combination of genetic and environmental factors. The underlying mechanism involves the body's immune system attacking the joints. This results in inflammation and thickening of the joint capsule. It also affects the underlying bone and cartilage.